UPDATE May 7, 2023:
American antisemitism as bad as Nazi Germany? Biden administration steps up efforts to divide America with hate.
There is a lot of hate circulating in our country and much of it seems to emanate from the White House. The president and his radical talking heads are stepping up their attacks on the goodness of America and the American people by using every trick at their disposal to politicize alleged hate as they prepare for a 2024 campaign that promises to be even more divisive than 2020.
On Wednesday we heard about "the President's commitment to countering Islamophobia."868 The day before that, it was the threat of antisemitism from Homeland Security Advisor Dr. Liz Sherwood-Randall, who claimed during remarks to the Anti-Defamation League that "violence against Jews is being normalized." She made this shocking comparison:
Jews are being targeted in their neighborhoods, synagogues, schools, homes, and online. By whatever measure you choose to employ, we have not seen this level of hatred towards Jews since Europe before the second world war.869
America is not Nazi Germany. This is a Biden White House vision spread for political purposes. Why? Because the president believes that hate sells to the Democrat Party's base.
The Democrat Party has a pick and choose approach to antisemitism. Party members excuse antisemitic remarks from Ilhan Omar (D-MN) and Rashida Tlaib (D-MI), who is in the headlines again for denouncing Israel as an "apartheid state." If this came from a Republican all hell would break loose, but antisemitism coming from Democrats is permissible and quickly swept under the carpet.
It's far too early in the 2024 campaign for Biden's activist officials to resort to Nazi rhetoric. Since the president has already attacked Republicans for embracing "semi-fascism," it's safe to assume civility is out of the picture despite the president's appeal to treat each other with "decency, honor, and integrity." Besides, none of this is about ending hate. It's about using the threat of hate to win elections.
How much hate can Biden create from sex and gender?
Race and ethnicity are just the start. The president warns of homophobia, transphobia, and biphobia871 and reminds us of our duty as Americans:
Hate is hate—and all of us have a responsibility to speak out against hate wherever we find it.872
Speaking out against hate is one of the things Biden does best:
Folks, racism, antisemitism, homophobia, transphobia — they're all connected. But the antidote to hate is love.873
There isn't enough hate for the president to prove that America is vile beyond redemption, so he creates more. When identity politics guides your thinking, it's easy to add phobias to the list.
Too bad for America the antidote of love will never come from a Biden White House that loves itself but has no love for America or the great things we stand for.
What happened to black and brown racism?
Did politicizing racism against black and brown Americans finally burn itself out, or does LGBTQwhatever propaganda take precedence until another racially-tinged shooting comes along the president can manipulate to his benefit?
Biden's view of America is frightening and must be especially so for left-wing acolytes who desperately want to embrace his false vision of America as a nation filled with hateful, racist, discriminatory, and even violent people. The left's foot soldiers repeatedly demonstrate where the real threats to our civil society come from, but like Chicago shootings the truth is routinely ignored.
Most of the world sees America as a beacon of freedom and equality, or at least it did before Biden came along with his message that we are a nation that never lived up to our values. The illegals he's importing would likely argue otherwise, but when conflicting reality stares this president in the face he looks away even if that reality is as glaring as a Chinese spy balloon leisurely snapping pictures from overhead.
So what's next for the Biden campaign's plans for a more hateful, discriminatory America?
We live in a society where left-wing politicians and union hacks promote initiating children into drag culture and respond to laws restricting genital mutilation of minors with anger and accusations of hate. Suddenly, biological males who claim they are women have the right to share shower and locker room accommodations with real women and compete with biological females in athletics. These are reprehensible products of politics, not science and certainly not common sense or decency.
How long before Biden's hateful America is pedophilephobic, too?
There has been talk from the far-left's sexual fringe that we're not treating pedophiles fairly or with respect and that a new, more pedophile-friendly label like "minor attracted person" or something equally misleading is less triggering, akin to swapping "undocumented immigrant" for "illegal."
Americans are accused of being antisemitic, Islamophobic, xenophobic, homophobic, transphobic, biphobic, anti-Asian, and racist against anyone in the country whose skin color isn't white and especially if they don't vote for Democrats. How far away can we be from throwing all caution and decency to the wind and adding pedophilephobic to the list?
This is a frightening, disgusting question, but given the lengths the Biden administration and Democrats are willing to go to maintain their radical grip on America I wouldn't rule out a single thing. Remember, these are the people who justify exposing young, impressionable children to drag queens and hiding gender indoctrination by teacher's union operatives in the classroom from parents. Activist bullies tend to get their way with this White House. Joe's diminished capacity doesn't help.
Never forget that Americans are good people.
Dr. Sherwood-Randall quoted Dr. Martin Luther King Jr. during her ADL address:
The ultimate tragedy is not the oppression and cruelty by the bad people — but the silence over that by the good people.873
We must never forget who the good people are and what we stand for. The bad people are those who seek to create and use the image of hate to advance themselves personally and politically.
Good people are the majority of Americans who see what Biden is doing for what it is and oppose his destruction of America and the values that make us the greatest, most tolerant nation on earth. Not recognizing this is a national tragedy and precisely where America under Joe Biden is headed.
UPDATE May 11, 2023:
One chart proves Biden is a shameless liar and a national disgrace.
Immigration Armageddon is hours away. Joe Biden's invasion of America has proceeded seamlessly. Our country is flooded with unvetted foreign nationals. The border is overwhelmed. Citizens and legal residents are being punished as illegals are shipped around the country to become a state and local taxpayer burden and public safety risk. If we can believe the warnings we are hearing, at 11:59 p.m. tonight all hell is going to break loose thanks to the expiration of Title 42.
We will never know how many illegals our president allowed to invade America under the guise of asylum-seeking or whatever quasi-legal excuses his bureaucratic hacks are using to give the appearance of legitimacy to what he's done. The gotaways are another issue entirely. This is a scary unknown because if they don't turn themselves in to the Border Patrol like the alleged and likely fraudulent asylum-seekers, there is probably a reason.
Biden doesn't care. It takes a very special type of president to orchestrate what's happened at America's national boundary with Mexico. Of all the destructive policies the president has set in place to destroy America, this one speaks to his obsessive disdain for our country and people more than any. Forcing amnesty with the threat of numbers creates a security risk and threatens massive upheavals, riots, and violence if we try to deport the invaders.
This is not about making America great. This is about destroying America from the outside.
Most of us accept that Biden is not capable of telling the truth. If he's talking, he's most likely lying. This is what he said yesterday about his illegal immigrant invasion:
Well, we've had chaos at the border for a number of years. We have to fully fund the border security effort. We have to fully fund —874
He hinted at a plan that sounds like processing them differently so they are no longer illegal:
Look, the purpose of what we're doing now is making legal immigration more streamlined, illegal immigration shorter term and moved — and moving in a direction that people know that there's a legal way to get here and not legal way. That what's underway now. 875
About that chaos at the border for a number of years? Illegal immigration has plagued us for years, but the numbers from this president are absolutely staggering. Biden is lying to the American people about an invasion that by all appearances is a vital cog in his destructive domestic policy agenda.
A single chart from Customs and Border Protection876 calls Biden a liar: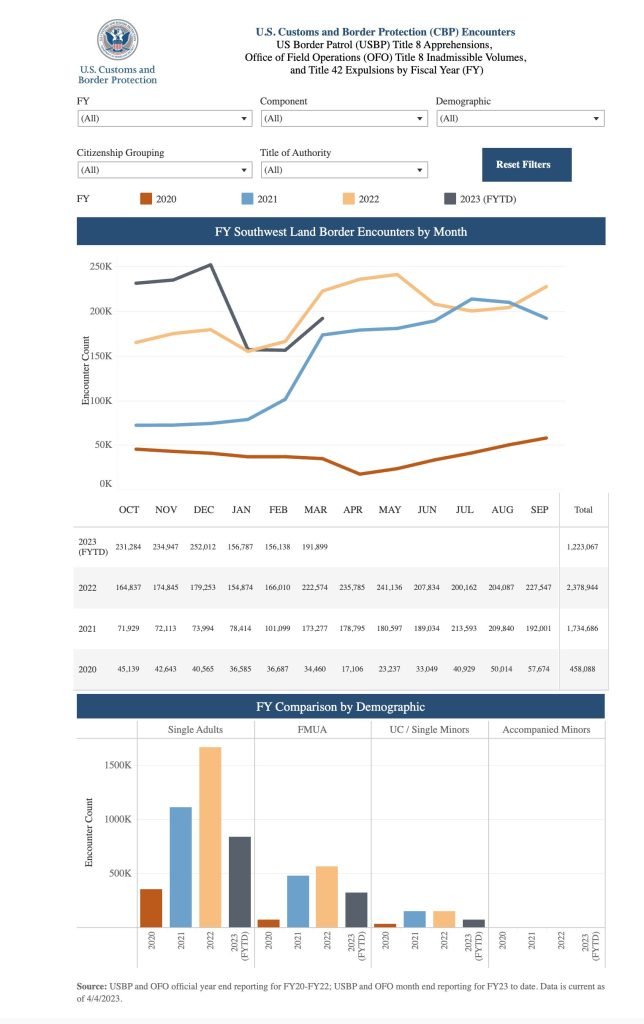 Yesterday Karine Jean-Pierre was asked what Biden's warning of chaos at the border might look like:
So, look, just a couple of things: So the President said yesterday, and I have said just moments ago, we're doing all we can, but we certainly expect the first weeks to be — to be tough, to be a challenge.876
CBP's numbers show what "doing all we can" means for America. At least Jean-Pierre is telling the truth. The numbers prove Joe Biden is a national disgrace.
UPDATE May 12, 2023:
It's about amnesty and Democrat votes, stupid: Jean-Pierre admits the reason for Biden's treasonous illegal immigrant invasion.
President Biden may be in a state of rapid cognitive decline, but he still thinks we're the stupid ones. He has never once been straight with the American people about the plan for his illegal immigrant invasion of our country. The secure border lies from DHS Secretary Mayorkas are a shabby effort at concealing what we knew the moment Biden took office: our president invited a treasonous invasion of America by foreign nationals to bolster the ranks of Democrat voters and fundamentally change America's population demographics to benefit his party.
Karine Jean-Pierre admitted as much during a pre-Title 42 expiration press conference yesterday. First, we got the usual tired story about a Republican refusal to negotiate that the White House is already using with the debt limit to make sure Democrats can continue destroying America with debt:
Instead of coming to the table to work together, House Republicans are playing politics and engaging in stunts that would fail to solve the challenges at our border, while also pushing deep spending cuts that would fire over 2,000 border patrol agents and decrease our border security.877
At least she gave us the reason why it's so important that Biden's illegal immigrant invasion proceed according to plan:
We applaud Congresswoman Linda Sánchez and House Democrats for reintroducing this legislation to responsibly manage and secure our border, keep families and communities safe, and better manage migration across the Western Hemisphere.878
Rep. Sanchez, who joined fellow Democrats calling the House-passed border security bill "The Child Deportation Act," thinks her amnesty bill is the right move:
The U.S. Citizenship Act will help us grow our economy, make our borders safer and more secure, and deliver a pathway to citizenship for millions of immigrants already living and working here.879
The legislation should be called The U.S. Democrat Act, but like a secure border veracity is not something Washington's left endorses. Sanchez doesn't bother to explain why if millions of illegals are already working in violation of our laws a path to being American will change anything about an economy the Biden administration is intent on destroying with massive spending and inflation. Why? The bill's true purpose resides in the title: U.S. citizenship.
We should assume that the president's historic vote for me or "you ain't black" comment also applies to illegals that Democrats want to turn into voters. It's a great leap of faith to assume that migrants from Mexico and Central America will support their party if granted the opportunity. The left's appetite for killing babies and disdain for Christianity will not go over well once migrants get what they came here for. If illegals are as hard-working and entrepreneurial minded as Democrats claim, neither will the party's focus on policies that encourage dependence on socialist government solicitude.
In remarks to the Congressional Hispanic Caucus last September, Biden used the invasion he created to attack the GOP:
Instead of working with us on solutions, Republicans are playing politics with human beings, using them as props. What they're doing is simply wrong. It's un-American. It's reckless.880
So is playing politics with American and even migrant lives, but we should have no expectation that Biden cares. This is all about politics. The blood on his hands from fentanyl deaths, violent crime, and migrant casualties are collateral damage of little consequence to our president.
This weekend, remember Biden's words while watching what promises to be absolutely stunning footage from our border: un-American. Reckless.
Did anyone mention treason?
868"Readout of White House Listening Session on Islamophobia." whitehouse.gov. May 3, 2023. https://www.whitehouse.gov/briefing-room/statements-releases/2023/05/03/readout-of-white-house-listening-session-on-islamophobia/, retrieved May 4, 2023.
869"Remarks by Homeland Security Advisor Dr. Liz Sherwood-Randall to the Anti-Defamation League." whitehouse.gov. May 2, 2023. https://www.whitehouse.gov/briefing-room/speeches-remarks/2023/05/02/remarks-by-homeland-security-advisor-dr-liz-sherwood-randall-to-the-anti-defamation-league/, retrieved May 4, 2023.
870 "Hitler accepts the ovation of the Reichstag after announcing the "peaceful" acquisition of Austria. It set the stage to annex the Czechoslovakian Sudetenland, largely inhabited by a German-speaking population. Berlin, March 1938." catalog.archives.gov. https://catalog.archives.gov/id/535792, retrieved May 7, 2023.
871"Statement by President Joe Biden on International Day Against Homophobia, Transphobia and Biphobia." whitehouse.gov. May 17, 2022. https://www.whitehouse.gov/briefing-room/statements-releases/2022/05/17/statement-by-president-joe-biden-on-international-day-against-homophobia-transphobia-and-biphobia/, retrieved May 4, 2023.
872Ibid.
873"Remarks by President Biden and Vice President Harris at Signing of H.R. 8404, the Respect for Marriage Act." whitehouse.gov December 13, 2022. https://www.whitehouse.gov/briefing-room/speeches-remarks/2022/12/13/remarks-by-president-biden-and-vice-president-harris-at-signing-of-h-r-8404-the-respect-for-marriage-act/, retrieved May 7, 2023.
874"Remarks by President Biden Before Marine One Departure." whitehouse.gov. May 10, 2023. https://www.whitehouse.gov/briefing-room/speeches-remarks/2023/05/10/remarks-by-president-biden-before-marine-one-departure-35/, retrieved May 10, 2023.
875"Press Gaggle by Press Secretary Karine Jean-Pierre En Route New York, NY." whitehouse.gov. May 10, 2023. https://www.whitehouse.gov/briefing-room/press-briefings/2023/05/10/press-gaggle-by-press-secretary-karine-jean-pierre-en-route-new-york-ny/, retrieved May 10, 2023.
876"Southwest Land Border Encounters." CBP.gov. https://www.cbp.gov/newsroom/stats/southwest-land-border-encounters, retrieved May 11, 2023.
Continued on next page