UPDATE April 10, 2023:
Biden asks the wrong question after the Louisville shooting, so we'll ask it here.
President Biden wasted no time blaming Republicans for today's shooting in Louisville, Kentucky:
How many more Americans must die before Republicans in Congress will act to protect our communities?806
We should ask the same question of Biden every time an American is killed by a knife, an illegal handgun, a stolen car, a criminal in a Democrat-run city released to the street, or a lethal dose of Chinese-Mexican fentanyl. He should also answer every time a migrant dies at our open border with Mexico. How many more must die because of his irresponsible policies and lack of leadership?
The real question is why Biden's America is so desperate, lawless, and dangerous?
Biden is asking the wrong question. The real issue is what happened to America since he took over the Oval Office and worked tirelessly with Democrats to destroy everything great about our country, from time-honored values that built this nation to the dollars and cents reality of what makes our economy the strongest on earth. For once, the president gives himself less credit than he deserves for the what he has accomplished.
Insight is not Biden's strong point. It's not that he isn't capable. He simply doesn't care about the consequences of his actions because he knows he can pass the damage off on others and has solid backing from a political machine and complicit media. To that end, he accused the GOP of a myriad of sins today without reflecting on his own dangerous, destructive domestic and foreign policies:
Instead, from Florida to North Carolina to the U.S. House of Representatives, we've watched Republican officials double down on dangerous bills that make our schools, places of worship, and communities less safe. It's unconscionable, it's reckless, and too many Americans are paying with their lives.807
Thanks to this president our great country is in a shambles economically, politically, and socially. Unrest is rampant. People are desperate and their desperation is made worse by the lies and constant harangues from a president who seeks to score political points by targeting good Americans as domestic terrorists, enemies of the state, and threats to our democracy.
Economic despair, social unrest, surging crime, a lawless border, angry and even violent activism, and authoritarian governance speak to a society in decline. So do mass shootings. Biden blames Republicans because it's all his limited leadership vision knows to do, but the big picture should focus our attention on this sham of a president who is hastening America's social, moral, and economic downfall.
UPDATE April 12, 2023:
Another sign of historic weakness: while scores of Americans die from fentanyl, Biden administration says we need China and Mexico's "cooperation."
After taking credit for the success of the Afghanistan withdrawal catastrophe that killed 13 Americans, President Biden switched gears and issued a jargon-strewn fact sheet praising "a trend of decreasing overdose deaths" thanks to efforts to curb his administration's fentanyl crisis:
In close collaboration with State, Territorial, Local, and Tribal partners, this Administration has expanded access to prevention, harm reduction where not prohibited by law, treatment, and recovery services; emphasized private sector collaboration; invested significant amounts of funding for law enforcement efforts to combat illicit fentanyl trafficking; and enabled historic seizures of illicit fentanyl on the border. These actions have contributed to a steady decrease or flattening in overdose deaths for seven straight months of reporting.808
CDC provisional estimates for our fentanyl losses809 show a slight decrease through October 2022, but a steady increase since Biden took over: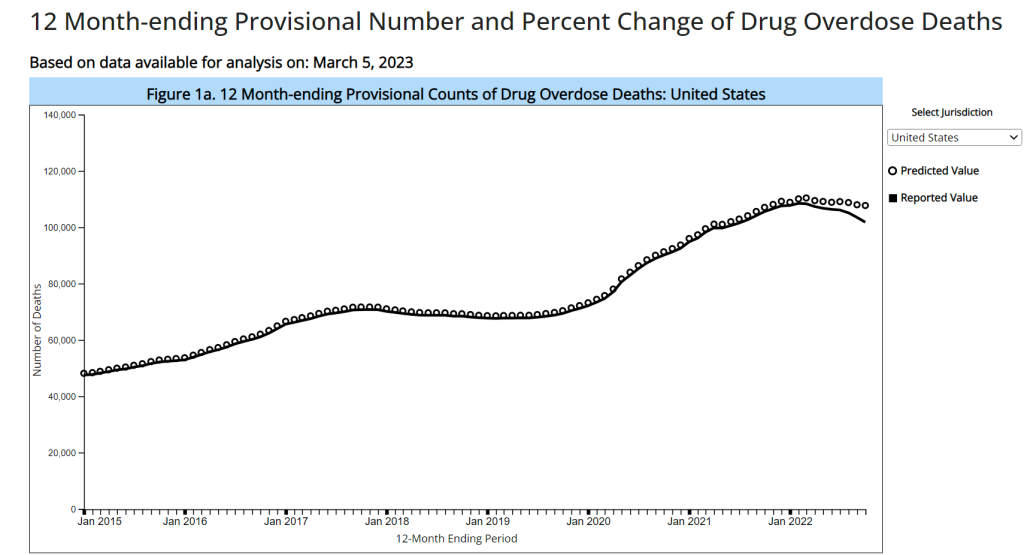 Confirmed government data tends to lag, so we don't really know what the current death rate is. Suffice it to say this is a massive problem made worse by Biden's open border and his refusal to promote American greatness through strength.
Two key players are missing from Biden's fentanyl strategy fact sheet: China and Mexico. There is one mention of cartels, but otherwise this is a vague, self-serving screed that avoids the real issue and per administration protocol speaks to America's growing weakness thanks to a president who seems to think being the preeminent world power is a shameful liability that must be crushed at all costs, even if it means more dead Americans.
Undeterred by Biden's efforts to render us helpless in the face of this chemical aggression, 14 members of Congress called out Mexico's President Lopez Obrador for his claim of non-involvement in the fentanyl streaming through our open border:
We write out of deep concern regarding an outrageous statement you made on March 9, 2023, stating that Mexico does not produce or consume illicit fentanyl, and it is a "U.S. problem."[1] These statements are at variance with the facts. Mexico's role in the production and distribution of illicit fentanyl is impossible to ignore, and it has caused death and destructions on both sides of our border. We demand that you retract your statement and that you commit to working collaboratively with our country to combat the fentanyl trade.810
Citing fentanyl as the leading cause of death in America's 18-45 age group, Congressman Dan Newhouse (R-WA) targeted the bad actors most Americans already know are responsible:
After being shipped to Mexico, the chemicals are produced into fentanyl-containing tablets and enters the United States via our southern border. It's estimated China is responsible for over 90 percent of illicit fentanyl found in the United States. We simply cannot allow the lethal fentanyl engine in China to run while communities across America's heartland are being torn apart.811
Members of Congress who still believe in American greatness continue to call on this administration to close the border and address China and Mexico's role in murdering Americans with their illegal drugs.
Secretary of State Antony Blinken was asked by Arizona Democratic Rep. Greg Stanton to try to "regain the cooperation" of China and Mexico:
"This is the very top of our agenda," Blinken replied. "We need their cooperation, one way or another, on this."812
A great and powerful America does not "need their cooperation." We compel cooperation. On the other hand, America under Joe Biden does need cooperation, favors, and the indulgence of hostile powers. Our unquestioned strength is now compromised, just like our president's fealty to U.S. interests vs. those of his family and bank account that are currently under investigation by the House Oversight Committee:
Over the course of several years, members of the Biden family and their companies received over $1.3 million in payments from accounts related to their associate, Rob Walker. Most of this money came as a result of a wire from a Chinese energy company and went not only to Hunter and James Biden, but also to Hallie Biden and an unknown 'Biden.' It is unclear what services were provided to obtain this exorbitant amount of money.813
For those scratching their heads wondering why China was omitted from Biden's fentanyl plan, this would be the place to start.
April 19, 2023:
Who is more likely to destroy America's greatest asset, extreme MAGA Republicans or a serial-lying autocrat who willfully hurts hardworking families and damaged our economy?
President Biden spoke of great things to come during yesterday's discussion with New York Democrats Chuck Schumer and Hakeem Jeffries:
They discussed Congressional Democrats' efforts to lower costs for hardworking families, protect essential programs that make communities safer, and confirm the President's nominees. 814
Unless you confuse efforts with success, Biden and the Democrats willfully inflicted unnecessary damage on our economy and destroyed our energy independence. They hurt hardworking families and will continue to do so because the demands of radical activists who line party pockets come first and foremost.
America's greatest cities have descended into violence and anarchy that Biden ignores in favor of attacking conservative gun owners who are protected by the Second Amendment. He doesn't care about making these communities safer because he can't use predominantly black on black crime to play the race card.
Even the unquestioned hegemony of the U.S. dollar is now in question as other countries react to the decline of America socially, economically, militarily, and politically thanks to the leadership of our dangerously inept, agenda-driven president.
Biden's conviction that he is not accountable for anything he does is so extreme that Fox News reports815 the White House lied about involvement in the armed Mar-a-Lago raid against the president's likely 2024 opponent. We have no reason to believe Biden is not involved in the Trump indictment as well, and we're just hearing about an IRS whistleblower who has information about the investigation into his son Hunter's financial dealings.
Joe Biden is a serial liar and a far-left radical autocrat who abhors transparency. We can't trust a single word he utters, a single press release from his White House, or any of the laughable statements made by his press secretary during her shockingly incompetent press conferences. He feeds the country a steady diet of lies and propaganda, does whatever he wants, and when he's found out lies about that, too.
Are you wondering what any of this has to do with the economy and federal budget?
Biden and the Democrats have a cherry-picked list of propaganda buzzwords. The trending favorite is "extreme MAGA." They start using it the moment they get up in the morning and they don't stop until the lights go out at night. When you hear it, you can be confident you are being deceived. For a president and party whose every move demonstrates how much they despise America, the fact that make America great is offensive to them is no surprise:
They [Biden, Schumer, and Jeffries] discussed what we know about House Republicans' extreme MAGA spending cuts, which include devastating cuts to veterans and education, taking food assistance and health care away from millions of people, and sending manufacturing overseas — all just to pay for their tax cuts for the super-wealthy and corporations.816
Biden promises an anti-MAGA budget proposal:
His Budget cuts the deficit by nearly $3 trillion over 10 years, asks the super-wealthy and corporations to pay their fair share, lowers costs for hardworking families, and invests in America.817
If America's president wasn't a compulsive liar and his White House not so focused on issuing misinformation and propaganda and had he not already exploded costs for hardworking families while tanking our economy and blaming the fallout on Putin, we might believe him. With Biden and the Democrats the promise of success is always around the corner. They just need a little more time and lots of cash to finish destroying what they started while they threaten that GOP "recklessness could crash the economy,"818 a feat the president already accomplished far beyond our worst fears.
Biden's lies about the economy can't cover up the reality of what we see at the grocery store or the gas pump. The Consumer Price Index is still rising. Come summer America's families will be spending their vacations in the backyard because gas prices will be through the roof. They'll be eating cold tuna salad instead of grilling steaks because it's all they will be able to afford.
America's economy is our greatest asset. Joe Biden is driving it into the ground and the international community will finish us off as China's currency gradually takes the place of our dollar and other nations fill the energy vacuum left by his socialist Green New Deal insanity.
Biden blasts Republicans for budget brinkmanship. Autocrats don't work well with others, so in all likelihood he will force a stalemate, threaten and even create an economic crisis, and then rely on lies to blame the Republican Party for not taking a knee to his plans for economic Armageddon.
This is a no risk gamble for the president. He will not be held accountable for anything he does to destroy America and he knows it. The entire machinery of Democrat-run Washington, the media, and Big Tech are in his corner. The only firewall between the American people and this far left sham of a leader are the "extreme MAGA Republicans" he accuses of semi-fascism and portrays as America's greatest enemy.
April 20, 2023:
Biden doubles down on blaming Republicans who get in the way of destroying America.
In remarks about the economy to a union audience in Maryland yesterday, the president threw out his "MAGA" slur 21 times:
And a minority of the party — the MAGA — I call them MAGA Republicans — are in control of the party. And they're in Congress threatening to undo all the stuff that you've helped me get done.818
Ignoring the enormous success of his campaign to destroy America on all fronts, the president claimed the economy has been going downhill for thirty or forty years:
And, by the way, it's not just what's been with MAGA Republicans. For the last three, four decades we've been losing ground.818
Did he confirm this with Barack Obama and Bill Clinton?
It's good to know that our country's financial problems are not about the Biden administration's ruinous economic stupidity. Per White House-Democrat Party protocol:
All the while, he [Speaker Kevin McCarthy] and the MAGA officials are separately pushing for more tax giveaways and overwhelming benefits to the wealthiest Americans and biggest corporations.819
The president went so far as to blame Republicans for planning to "take food assistance away from as many as 10 million kids," before downgrading his estimate to 4 million.820 He didn't mention what he's done to drive up food prices because he doesn't care. Instead, when the opportunity presents he lies that prices are coming down.
Biden concluded with his boilerplate appeal to American unity:
We just have to remember who we are. We are the United States of America. There is nothing beyond our capacity. (Applause.) Nothing we've ever set our mind to we're not able to do it when we've done it together. (Applause.)821
"Together" is a lie, too. We can also thank Joe Biden for that.
UPDATE April 21, 2023:
No justice? Biden's fundamentally unfair America is unjust to his rotten core.
Why is the social justice, racial justice, and environmental justice forced on Americans by the Biden administration so fundamentally unjust? Whether it's penalizing us for our good credit when buying a home or ignoring the shocking intraracial violence in the urban hellholes controlled by his party, there is nothing fair or just about what this president is pushing. Biden's brand of justice is justice for radical left activists, not hard-working, patriotic Americans.
This morning the White House issued a fact sheet to "Revitalize Our Nation's Commitment to Environmental Justice for All." To be clear, this is not America's commitment. This is Joe Biden pandering to the persons unseen who tell him what to say and do:
For far too long, communities across our country have faced persistent environmental injustice through toxic pollution, underinvestment in infrastructure and critical services, and other disproportionate environmental harms often due to a legacy of racial discrimination including redlining. These communities with environmental justice concerns face even greater burdens due to climate change.822
Sound familiar? This is from the White House August 17, 2022 fact sheet on the phony, Green New Deal "Inflation Reduction" Act:
For far too long, communities across our country have faced environmental injustices, bearing the brunt of toxic pollution, enduring underinvestment in infrastructure and critical services, and suffering disproportionate impacts from climate change.823
The White House also applies the "for far too long" preface to domestic violence, opportunity in rural communities, abusive nursing homes, drug costs, and America's #1 enemies, wealthy taxpayers and corporations. The message is always the same: until Biden came along, America hasn't lived up to its promise.
No matter what color they choose to paint it, justice is the fundamental lie of the Biden presidency. His propaganda writers use it to divide Americans, to pander to identity politics groups, and to appease the shadowy activist left who control the White House.
Biden's commitment to environmental justice includes everything from promoting "the latest science data" to increasing "accountability and transparency" in federal policy impacting the environment.824
The fact that the Biden White House proved with COVID that it doesn't care about science and swaps lies and disinformation for transparency and accountability will be lost on the deaf ears and tin foil hat-wearing climate alarmists waiting for the world to end. For the rest of us, the injustice of the historically unjust Biden presidency is reason enough to vote this destructive partisan hack out of office next year.
Consider:
Illegal immigrants get plane tickets, free meals, and even hotel rooms while homeless American veterans sleep on the street.
People who scrimp, save, and limit their spending are going to be punished by the Biden administration with higher mortgage rates to help fund homebuying for those less responsible.
Intraracial crime in Democrat-run cities is useless for the president's divisive racial propaganda, so it is ignored while children are shot dead in their homes and the White House seeks out mass shootings it can politicize against Republicans.
There is nothing just about Biden's climate Armageddon economy, which inflicts the most pain and suffering on families who can least afford his prices on essentials like food and fuel.
Promoting life-changing chemical and surgical mutilation of children's bodies is a destructive coda to the school closures and lockdowns during Democrats' authoritarian COVID free-for-all. There is no justice in indoctrinating our most vulnerable and impressionable to make permanent, life-altering decisions to shore up the numbers of the president's LGBTQwhatever base of support.
Despite Biden's newfound insistence on using science for environmental justice, he wholly ignores the science underlying the lie of fair and just athletic competition between men and women. He is willfully moving to destroy women's sports for the sake of appeasing a tiny, radical transgender base that only cares about its own demands.
Remember Biden's "you ain't black" comment during the 2020 presidential campaign? The White House demands racial justice while the racist Democrat Party viciously attacks any black American who runs for public office as a Republican. A prima facie example is the persistent, racist effort to remove Clarence Thomas from the Supreme Court not because Thomas is black, but because Democrats firmly believe that black Americans should not be permitted to hold conservative views.
The injustice of the Trump indictment while truly shocking details emerge of the Biden family's business dealings, the president's potential compromise, and the refusal of our justice system to touch Hunter Biden should offend every good, honest American who plays by the rules. This, more than any other example of the injustices perpetrated by this president, underscores the fundamental unfairness of America on Joe Biden's watch. He has no right to use the word "justice" because he neither knows nor cares what it means.
806"Statement from President Joe Biden on the Shooting in Louisville, Kentucky." whitehouse.gov. April 10, 2023. https://www.whitehouse.gov/briefing-room/statements-releases/2023/04/10/statement-from-president-joe-biden-on-the-shooting-in-louisville-kentucky/, retrieved April 10, 2023.
807Ibid.
808"FACT SHEET: Biden-?Harris Administration Announces Strengthened Approach to Crack Down on Illicit Fentanyl Supply Chains." whitehouse.gov. April 11, 2023. https://www.whitehouse.gov/briefing-room/statements-releases/2023/04/11/fact-sheet-biden-harris-administration-announces-strengthened-approach-to-crack-down-on-illicit-fentanyl-supply-chains/, retrieved April 12, 2023.
809"Provisional Drug Overdose Death Counts." cdc.gov. February 15, 2023. https://www.cdc.gov/nchs/nvss/vsrr/drug-overdose-data.htm, retrieved April 12, 2023.
810"Stein Demands President of Mexico Retract Statement on Fentanyl." steil.house.gov. April 5, 2023. https://steil.house.gov/media/press-releases/steil-demands-president-of-mexico-retract-statement-on-fentanyl, retrieved April 12,2023.
811"America Must Stop China's Lethal Fentanyl Engine." newhouse.house.gov. February 28, 2023. https://newhouse.house.gov/media/weekly-columns-and-op-eds/america-must-stop-chinas-lethal-fentanyl-engine, retrieved April 12, 2023.
812"Stanton Pushes Secretary of State to Reengage Mexico, China to Crack Down on International Fentanyl Trafficking." stanton.house.gov. March 23, 2023. https://stanton.house.gov/2023/3/stanton-pushes-secretary-of-state-to-reengage-mexico-china-to-crack-down-on-international-fentanyl-trafficking, retrieved April 12, 2023.
813"Comer Reveals Biden Family Members Receiving Payments from Chinese Energy Company." oversight.house.gov. March 16, 2023. https://oversight.house.gov/release/comer-reveals-biden-family-members-receiving-payments-from-chinese-energy-company%EF%BF%BC/, retrieved April 12, 2023.
814"Readout of President Biden's Call with Leader Schumer and Leader Jeffries." whitehouse.gov. April 18, 2023. https://www.whitehouse.gov/briefing-room/statements-releases/2023/04/18/readout-of-president-bidens-call-with-leader-schumer-and-leader-jeffries/, retrieved April 19, 2023.
815Lee, Michael. "Biden administration officials were reportedly involved in Mar-a-Lago raid despite claiming otherwise." Fox News. April 11, 2023. https://www.foxnews.com/politics/biden-white-house-officials-involved-mar-a-lago-raid-despite-claiming-otherwise-report, retrieved April 19, 2023.
816"Readout of President Biden's Call with Leader Schumer and Leader Jeffries." whitehouse.gov. Op. cit.
817Ibid.
818"Remarks by President Biden on his Vision for the Economy." whitehouse.gov. April 20, 2023. https://www.whitehouse.gov/briefing-room/speeches-remarks/2023/04/20/remarks-by-president-biden-on-his-vision-for-the-economy/, retrieved April 20, 2023.
819Ibid.
820Ibid.
821Ibid.
822"FACT SHEET: President Biden Signs Executive Order to Revitalize Our Nation's Commitment to Environmental Justice for All." whitehouse.gov. April 21, 2023. https://www.whitehouse.gov/briefing-room/statements-releases/2023/04/21/fact-sheet-president-biden-signs-executive-order-to-revitalize-our-nations-commitment-to-environmental-justice-for-all/, retrieved April 21, 2023.
823"FACT SHEET: Inflation Reduction Act Advances Environmental Justice." whitehouse.gov. August 17, 2022. https://www.whitehouse.gov/briefing-room/statements-releases/2022/08/17/fact-sheet-inflation-reduction-act-advances-environmental-justice/, retrieved April 21, 2023.
824"FACT SHEET: President Biden Signs Executive Order to Revitalize Our Nation's Commitment to Environmental Justice for All." whitehouse.gov. Op. cit.
Continued on next page