DREAMers should have thought twice before they filled out Form I-821D to get their deferred action relief from removal. Not being U.S. citizens, maybe they believed that our government was in their corner and could be trusted. Wouldn't it have been smarter to seek safety in numbers and take a chance on not being discovered? Granted, the current political landscape has smiled on lawlessness. That won't last forever. If things shift to the right, deferred action could make removals much, much easier.
Deferred action was never meant to be temporary
Homeland Security called it temporary relief from removal for deserving young people.1 When government creates something bad and calls it "temporary," start worrying. You just got saddled with a problem that is never going to go away.
Deferred Action for Childhood Arrivals came from a presidential order that shoved a great big foot in the amnesty door for the Obama administration. The program is a relic, anticipating legislation that is not going to pass and will likely be the closest DREAMers will get to comprehensive immigration reform. That means DACA will keep being renewed until we have a president or congressional majority that realize the program evolved from a flagrant violation of the separation of powers and decides to cancel it.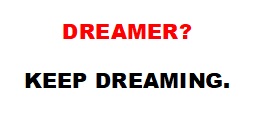 So many DREAMers, so few rejections
Instead of putting a nice face on what Obama did for DREAMers with a presidential order, let's cut to the chase and call DACA a lie. After being assured that the program was temporary and that applicants would have to jump through hoops to be accepted, there have been only 20,311 cases denied, terminated, or withdrawn out of 573,508 I-821D applications reviewed.2 We all knew this would be a rubber stamp program, but shouldn't we have set the bar just a little higher?
Give Homeland Security and the White House credit for foresight. El Salvador, Guatemala, and Honduras are right behind Mexico in the number of DACA acceptances, though Mexico's 493,669 requests will be hard to beat.3 If the administration changes the residence requirements for humanitarian reasons and teaches the kids coming over the border from Central America how to fill out the form, the president and Homeland Security could make those numbers look even better.
DREAMers get their deferred action renewal on schedule
There wasn't a great deal of fanfare in the media when deferred action was renewed. With Janet Napolitano out of the picture, incoming DHS Secretary Jeh Johnson did the dishonor:
Despite the acrimony and partisanship that now exists in Washington, almost all of us agree that a child who crossed our border illegally with a parent, or in search of a parent or a better life, was not making an adult choice to break our laws, and should be treated differently than adult law-breakers," said Secretary Johnson.4
Whoever wrote some of Janet Napolitano's ramblings in support of deferred action must still be working at Homeland Security. Did no one consider it odd that our government considers 30-year old DREAMers children who are not accountable for their actions? If eligibility had been cut off at 18 instead of rubbing our faces in Obama's determination to flout the law, we might have been able to justify more sympathy for the program's beneficiaries.
House Speaker steps up to the plate
Secretary Johnson seems to place the president's values above the law:
By the renewal of DACA, we act in accord with our values and the code of this great Nation. But, the larger task of comprehensive immigration reform still lies ahead.5
If John Boehner is going to make good on his newest political threat and go after the president for his abuse of executive power, deferred action is as good a place as any to start.
It's hard to beat deferred action for lawlessness and even harder to top Boehner's reference to aggressive unilateralism6 to describe Obama's executive lawmaking. Kudos to whoever came up with that one. It should be printed on red, white, and blue T-shirts and handed out to every citizen who still believes that laws meant to protect us matter and should be enforced.
Values only go so far
The problem for DREAMers is that while DACA may be in accord with the values of the Obama administration and some members of Congress, it was only approved by the president. What do DREAMers think Washington will do with the information they handed over on their deferred action applications when the liberal recklessness that has seized our government finally draws to a halt?* Coming out of the shadows may be a rallying cry for those seeking relief from USCIS scrutiny and removal. It might have been wiser to stay hidden. The government that enticed DREAMers to show themselves just might turn on them when it decides to go back to enforcing the law.
November 9, 2016: It came to a halt last night. Next year the GOP will own the White House, the House, and the Senate. The president has vowed to start enforcing immigration law, so it's time to ask the question again: what about the information handed over on all those DACA applications?
July 21, 2017, 7:46 a.m.: RINO Graham joins Durbin to back DREAMers
Yesterday RINO Lindsey Graham and Illinois Senator Dick Durbin introduced a bill that would make DACA permanent. They are calling it the "DREAM Act." When the bill text is available I don't expect it will mention deferred action, but Graham's press release makes it clear that it will have the same impact.
The most appalling thing about this bill aside from turncoat Graham's participation is this statement made on the senators' "Dream Act Fact Sheet:"
We have already invested in these young people by educating them in our schools and they are now a vital part of our workforce, contributing to our economic growth and our society as teachers, engineers, nurses, and small business owners.7
The message? We spent lots of money to educate these people and they are working here illegally, so now we need to make them citizens to set things right.
Graham's role in the push for amnesty is just more Republican treachery in a year that could spell the end of a GOP striving to prove that it no longer serves any useful purpose for conservatives.
7:05 p.m.:
Still waiting for the bill text,** but the section-by-section breakdown of the legislation on Senator Durbin's website not only mentions DACA, it grants conditional permanent resident status to anyone who received this Obama-era temporary accommodation.8
September 2, 2017: congressional double-cross in the works?
Yesterday Nancy Pelosi sent a letter to Speaker Paul Ryan, who lost no time announcing his weakness on Trump administration plans to scrap DACA once and for all. Her letter mentions Ryan's recent remark that "this is something Congress has to fix."9 Considering this started with an executive order and presidential overreach by Obama, it is entirely appropriate that successor Trump repeal this ill-conceived scheme for amnesty.
Pelosi? She is craftier than Ryan. If this goes to Congress there will never be a solution and 20-something DACA dreamers pretending that they are here legally will be with us forever.
September 4, 2017: felony paves the road to activism
The Chicago Tribune reports10 that felon Elvira Arellano led a march in Chicago yesterday in advance of President Trump's decision on what to do with deferred action. This is the same illegal immigrant who hid out in a church a decade ago to avoid deportation for working under a fake Social Security number. The moral to the story is that if you want to commit a crime you are better off being an illegal immigrant. With a little luck and lots of Democratic rhetoric not only will all be forgiven, you can come back as a famous, respected left-wing activist.
September 5, 2017: DACA is done
It's over. Jeff Sessions did the dirty work. It was a much kinder, gentler solution than the media and Democrats will give Trump credit for. Now the problem is in Congress's hands, right where it started before Obama took matters into his own.
**Note: the full text of S.1615, the DREAM Act of 2017, is now on Congress.gov.
September 14, 2017: Deal or no deal for DREAMers?
Last night's bombshell that Trump will continue to collude with Pelosi and Schumer by striking a DACA agreement may not be a deal after all.
The announcement sounded suspicious from the beginning. It's inconceivable that Trump would back down on his promise to put up a border wall, given that little else on his campaign platform has gone through and his base is counting on him to bring responsible enforcement to our immigration system. A deal without Democrats agreeing to back down on the border wall is no deal at all.
DACA recipients are no longer children, despite the fact that House Republicans bought into the idea with their popular DACA replacement bill, the RAC Act. Children aren't allowed to work, drive, or do a lot of the other things DACA beneficiaries in their 20s do thanks to temporary amnesty. Should we deport them en masse? No. Should we give them blanket permission to stay? Absolutely not. Republicans in Congress need to get their act together and find a way to screen these people on a case-by-case basis and find out why they are still illegal and what they have done to change their status. Let's start with the oldest ones first …
December 17, 2017: Buy amnesty now with S. 1615, pay for DREAMers later
The Congressional Budget Office just reviewed the newest version of the legislative effort to allow DREAMers to stay in America. S.1615, the Dream Act of 2017, is a curiously irresponsible bill from Republican Senator Lindsey Graham and business as usual from Illinois Senator Dick Durbin.
We can send DREAMers home or we could spend $26.8 billion over a ten year period beginning in 2018.11 That decision isn't in our hands. It's in the hands of people we pay to craft responsible legislation.
Even conservatives in Congress don't have the spine to send DREAMers home, especially with midterms beckoning next year. It's easier and safer to propose legislation that won't pass to give hope and earn votes.
Where will the money go?
You can buy a lot of benefits for an estimated 2 million illegals with $26.8 billion and that's what this bill plans to do. If enacted, S. 1615 is estimated to increase the deficit by $25.9 billion.12 Your tax dollars will go to benefits for non-citizens including health insurance subsidies, Medicaid, Supplemental Nutrition Assistance ("SNAP"), Earned Income and Child Tax Credits, Supplemental Security Income, Social Security and Medicare, and College Assistance.13
We've been told over and over that sending DREAMers home will be catastrophic for the economy. Illinois Rep. Raja Krishnamoorthi warned:
Stripping 780,000 Dreamers of their DACA status will cost our economy nearly half a trillion dollars over 10 years while robbing our country of thousands of entrepreneurs and contributors at leading companies.14
We keep hearing that half a trillion dollars figure. The math that creates it is a little hazy, but let's accept it at face value and suggest a better alternative to S. 1615. We have 6.6 million unemployed Americans as of November 2017,15 which makes 780,000 DACA recipients seem pretty inconsequential.
Let's give the jobs to them.
December 18, 2017: H.R. 3440 won't save us any money
The CBO released its cost estimate for H.R. 3440, the House version of the Dream Act alongside the bad news about S. 1615. The estimated cost to taxpayers is exactly the same as the Senate bill: $26.8 billion in direct spending and $25.9 billion added to the deficit from 2018 to 2027.16
That should make it easier for Republicans to reject this one right out of the box.
January 18, 2018: Durbin whines after Trump blasphemes his agenda
A whiny Dick Durbin has been all over the lefty media expressing dismay, shock, and outrage at what the president allegedly said during last week's meeting on an immigration deal.
When it comes to flagrant amorality, hypocrisy, and double-dealing I can't imagine anything worse than national politics. Instead of crying to the people about the president using language that offends his liberal sensibilities, Durbin should explain why
it's OK to bring people here who lie, cheat, steal, and do harm to the taxpayers he is supposed to be looking out for.
Don't wait too long. The senator showed his backside when he stated the obvious after the meeting:
I have a single mission – to pass the Dream Act.17
Surprised? Do you think we pay his salary so he can do right by YOU?
January 25, 2018: citizenship at what price?
The White House offered Democrats and nearly 2 million DREAMers an olive branch today, or at least that's what we're hearing. The path to citizenship will have quite a cost and will benefit only a fraction of the illegals in the U.S.
Will Democrats be forced to slam the door on immigrants they have been courting for years, both in the country and those who have not yet crossed the border?
We haven't seen the plan yet. I'd expect some pretty heft anti-sanctuary policies to ride in with the Trump wall and security imperatives. Given the mayor meltdown in Washington yesterday as an infrastructure meeting with the president collided with the DOJ's issuing of threatening letters to sanctuary cities, don't expect that path to being an American to be cheap or easy.
January 26, 2018: race card comes fast after Trump proposal
The early Democratic response to Trump's soon-to-be detailed immigration proposal was fast and angry.
Rep. Alcee Hastings (D-FL), a member of the party that made DREAMers a bargaining chip, said that the president shouldn't use them as one. He opined:
The President's so-called immigration proposal is absolutely shameful. It is a ransom demand, plain and simple.18
Congresswoman Pramila Jayapal (D-WA) blamed Trump instead of Obama for the plight of young illegals and then threw the race card:
The bottom line is, Trump's policies blatantly target people of color and advance his hate-filled agenda. We cannot let this proposal see the light of day.19
Joe Crowley kept it short and sweet. He called the proposal a ransom note.20
What do you call it when Democrats shut down the government and hold citizens hostage as a ploy to force amnesty for the same group of people?
It's not ransom. They call it "budget negotiations."
February 16, 2018: DREAMer deportation is political suicide, stupid
Senator Bob Menendez warned yesterday that "time is running out for America's Dreamers."21
That was before a DREAMer deal blew up in the Senate's face.
With this new failure to do something really, really simple you are going to hear a lot of that kind of talk. Imminent, mass deportation. The end of America's hopes. Crying children mercilessly horded back to a country they have never known.
It's all garbage.
Republicans act stupid. They aren't. Neither is Trump. With midterms coming DREAMer deportation is political suicide. It's not going to happen. When you hear prominent Democrats beat their chests and wipe away tears it's all political theater of the very worst kind.
Here is some truth of the very best kind: just like the budget deal talks that ended in a short-lived shutdown, the Senate is going to milk this for every second of media publicity members can get. Failure in the House and Senate is not failure as we know it. It's just another opportunity for both sides to get their faces in front of a camera.
March 2, 2018: Democrats threaten DREAMers and stupid people
Democrats in Congress have swallowed their own foul-tasting Kool-Aid and more than ever seem to believe left-wing propaganda about the president being a racist moron.
Party members persist in threatening illegal immigrants and liberal stupid people with mass DREAMer deportations if we don't find an immediate solution to DACA's expiration.
This is an election year. Democrats know better, but that doesn't mean the public does. That's why we keep hearing threatening press releases from party members more interested in alarming immigrant communities for political gain than calming fears that ICE is lining up buses for that long trip over the border.
Democratic Whip Steny Hoyer released this at the beginning of the week:
The Supreme Court's rejection of the Trump Administration's request to expedite the deportation of hundreds of thousands of young DREAMers does not mean Congress has any less urgency to resolve this crisis of the President's own making.22
We've heard a lot about urgency. It worked for the ACA so Democrats must think Congress will swiftly and unthinkingly pass more poorly thought-out legislation to protect a group of immigrants even though the authorities keep finding examples of DREAMers causing problems because they weren't vetted as thoroughly as Obama promised.
Trump is no idiot. Too-long careers on Capitol Hill make people stupid. As appealing as mass removal sounds to many, it's only going to happen in Democratic pre-midterm fantasies.
March 24, 2018: two bad days
It has been a tough two days for DREAMers. First the House and Senate rubbed their faces in the fact that they are little more than convenient political pawns. After that, Americans likely to have their backs marched on Washington to voice anger in support of an entirely different cause.
$1.3 trillion but no room for DACA fix
$1.3 trillion is a pretty big pile of cash, but there was no room for DREAMers or a DACA fix in the enormous spending bill just greenlighted by Republicans who cried foul when Obama wouldn't cut federal spending enough to suit them.
In an unintended tit for tat gesture there was no room for Trump's border wall, either.
Granted, there was no reason to include DREAMers in the bill. They are only a bargaining chip and a small one at that, but so powerful that their demands helped shut the government down twice this year.
Don't expect that to happen again. Been there, done that.
Big march on Washington about something else
Congress gave up on a DACA fix. The spotlight shifted. Lawmakers have something else to worry about now: guns in schools. Today's big demonstration in Washington was about violence, not helping illegal immigrants.
Perhaps that explains why DREAMers where shafted in the spending bill. They lost out to lawmakers who are mouthing soothing, empty words to American teenagers justifiably concerned about being blown away in the classroom.
Despite the March for Our Lives don't expect much to happen on the gun control front. Like the fate of the DREAMers, congressional interest in this issue is going to die a quiet death when something better comes along.