I was astounded to discover that ICE's detention center costs were almost $3 billion in 2017.1 That's what we pay to keep foreigners locked up according to a GAO report released last week.
ICE uses a complicated formula for estimating what we need each year to hold foreign nationals under lock and key, but finding fault with the agency's cost projections blurs the big picture and ignores three important questions. Why are these facilities necessary, why do we have a backlog of nearly half a million immigration cases,2 and why do we need a Justice Department Executive Office of Immigration Review (EOIR) budget that expanded from $199 million in 2005 to $440 million by 2017?3
By now you should know why. If you don't, President Trump already answered all three questions.
Why are detention center costs so high?
Unlucky illegal immigrants who get caught can wind up behind bars in an immigration detention center. Lots of federal employees manage this system and we have to make sure there is enough space to accommodate everyone picked up by ICE until the EOIR courts decide whether they go or stay. All of this costs lots of money.
Like any other lockup, taxpayers have to provide detainees with everything they need while under federal care and control including food and health care.4 We also pay employee salaries, overhead, insurance, office equipment, and every single item needed to administer the detention center system.5 This is an expensive business, which raises a question Congress has been fighting over for years with no resolution: why do we put up with a system that encourages lawbreaking and costs taxpayers billions?
The answer is simple. We don't want to deal with the truth. Instead, we talk politics
ICE report: most arrests are criminals
143,470 aliens were arrested in 2017 for civil immigration law violations.6 This is a trifling figure compared to the number of foreign nationals in the country illegally and the inflammatory back and forth about massive federal mistreatment of immigrants.
110,104 individuals were picked up during the last year of Barack Obama's presidency, but even a 30% jump from Trump7 is a very small number when you consider the millions of individuals that could be arrested if we decided to go all out with law enforcement.
There is some bad news in these numbers for Democrats. 74% of those arrested were criminals or had a criminal charge pending.8 No surprise we don't hear from party members about that.*
Right reason, wrong argument
The GAO does what it does very well, but from a broader perspective the problem isn't that ICE overruns its budget because it underestimates how many detention center beds taxpayers have to fund. The problem is that we need as many beds as we do.
Detention centers are unpopular with the same politicians who keep coming up with reasons to ignore what makes these places necessary. Instead, they point fingers at how we treat people who are detained for breaking the law.
Higher standards for immigrants than jailed citizens?
These facilities are jails, not hotels, but they are still held to a higher standard than lawmakers would hold the prisons that house our citizens.
Abuse and harassment
Sexual abuse and harassment are trending issues everywhere. The detention center system is no exception. 40 federal lawmakers signed a letter to Immigration and Customs Enforcement about problems in Texas ICE facilities:
"Complaints of sexual abuse by guards and subsequent retaliation by ICE following victim grievances are disturbing and unacceptable," said Congressman [Lloyd] Doggett. "Many of these victims are refugees seeking asylum, fleeing prior traumatic experiences. Basic human decency requires that they not be abused here.9
Jailed and pregnant
Democrats want to place pregnant women off limits, though we don't have a problem incarcerating citizens who are expecting.** Congress has done nothing about birthright citizenship, but 70 lawmakers including Pramila Jayapal (D-WA), Lucille Roybal-Allard (D-CA), Barbara Lee (D-CA), Debbie Wasserman Schultz (D-FL), Luis Gutierrez (D-IL) and other prominent liberal voices sent a letter to Homeland Security's Elaine Duke because:
The detention of pregnant women is cruel, high-risk, and almost never appropriate given the danger it poses to the life of both the mother and her unborn child," the members continued.10
There are proposals to fix the detention center problem including H.R. 3923, the Dignity for Detained Immigrants Act, which would eliminate mandatory confinement and force the feds to show cause for incarceration.11 Congressman Mike Quigley (D-IL) suggested a solution that we almost never hear from Democrats. He wants to pay less.
Inhumane treatment of the undocumented cannot be rewarded with repeated budget increases. It goes against our country's most fundamental values and cannot continue.

We must cut ICE's budget until these concerns are addressed.12
Trump's solution hateful says Democrat Blumenauer
Trump proposed a wall. If nothing else it might prevent these vulnerable people from ending up in an unfair, dangerous, abusive detention center because they couldn't help but cross our border. Democrats don't like that solution any more than they like detention centers.
Oregon's Earl Blumenauer believes that "Outrage Isn't Enough" to address this and other problems. Rep. Blumenauer talked the talk about the wall:
It's a bad, ineffective, and expensive policy, and just another example of what I believe is the administration's hateful anti-immigrant agenda.13
Apparently neither Quigley nor Blumenauer remember whose permissive policies make these unpleasant, inhumane, unpleasant solutions necessary.
April 26, 2018
*These numbers include 1,886 either convicted or charged with murder, 5,118 convicted or charged with sexual assault, 48,454 convicted or charged with assault, and 11,173 convicted or charged with weapons offenses.14
**An article on the National Library of Medicine website estimates the number as high as 10% of the female prison population.15
April 29, 2018: Detention and jail – Democrats support our revolving door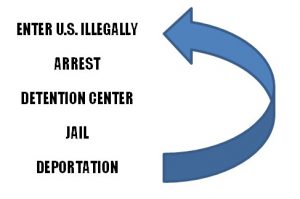 We can hold people in a detention center and then lock them up in prison but that won't stop them from coming back.
On April 10, 2018 the U.S. Attorney's Office in Columbia, South Carolina reported the case of a Mexican national taxpayers will support in prison because he returned twice after being deported:
Evidence presented at the change of plea hearing established that Mendoza-Ojeda is a Mexican citizen who had previously been deported twice with the second deportation occurring after he was convicted for felony driving under the influence causing great bodily injury as a result of an accident.16
The same office began the month with this:
Evidence presented at the change of plea hearing established that Villareal-Garcia was encountered by ICE – Enforcement and Removal Operations agents on November 27, 2017 at the Alvin S. Glenn Detention Center in Columbia after he was arrested for Driving Under the Influence. An investigation revealed that he is a citizen of Mexico who had previously been deported pursuant to an order of removal.17
This is another side to the story of immigrants in America that Democrats won't talk about no matter how many people are hurt or how much it costs taxpayers. Remember this the next time you hear a party member lambasting the suggestion that we need a border wall.
UPDATE April 24, 2019: DHS Family and Children Panel Asks Taxpayers to Pay More
Nielsen is gone and family separation damage control appears to be the order of the day at Homeland Security.
In an April 16, 2019 DHS press release the agency's CBP Families and Children Care Panel Subcommittee reported on the "real crisis"18 at the border.
It takes a while to sort through all the words, but like Nielsen separating families ("FMUs") looks to be out.
The panel recognized the "inadequate and overcrowded holding areas at UISBP stations"19 and made a variety of suggestions that lead to one place: more spending.
In Washington speak this means "an emergency supplemental budget request"20 expected to run into the billions. The goal is to make sure that the way we process illegals:
conforms to our values.21
Political values can be very expensive.
The recommendations ask the president to act and for Congress to expedite asylum red tape to deal with the overwhelming number of FMUs. In a perplexing irony the panel stresses that the current system allows illegals to live illegally in the U.S. for several years but it doesn't offer a way to stop them before they cross the border.
The panel recommends that we dump Flores and process asylum requests faster and better at points of entry. There is no mention of a border wall, denying asylum en masse, turning these people back before they become our problem, or stopping them from crossing wherever they wish.
Neither is there any mention of why a Democratic House should do any of these things as members stall for time and resurrect their call for the legislative panacea of Comprehensive Immigration Reform.
UPDATE December 17, 2019: detention center better for children than this
It's not all about the government brutalizing immigrant families and locking them in cages. There are also the news releases Democrats don't talk about while they criticize federal officers who put their lives at risk:
TUCSON, Ariz. – At approximately 2:40 p.m. today, a silver 2014 Ford Taurus failed to yield to U.S. Border Patrol agents working the immigration checkpoint at mile marker 26 on Federal Route 15, 20 miles south of Casa Grande.

The vehicle fled the checkpoint causing agents to pursue.

Shots were fired at agents from the vehicle before it was stopped with assistance of other law enforcement partners on I-10 near Casa Grande.22
When illegal immigrants put kids in danger Border Patrol agents step in. Sometimes that means rounding up sex offenders. At other times it means intercepting drug shipments with children caught in the middle:
U.S. Border Patrol agents arrested a woman today who had methamphetamine hidden inside her car while driving with her two children.23
This isn't just an isolated incident:
Sunday, agents working the state Route 85 Immigration Checkpoint in Ajo stopped two separate drug smuggling attempts. That afternoon, agents seized more than 80 packages of meth hidden inside a Jeep SUV, whose passengers included two children. An hour later, agents seized nearly 20 packages of meth and 10 of cocaine hidden inside a Nissan sedan, whose passengers also included a child. The two seizures totaled 103 pounds of meth and 29 pounds of cocaine.24
When this happens to the children of U.S. citizens we place them in protective custody. When illegal immigrants break the law we blame Blumenauer's hateful anti-immigrant agenda and attack the officers whose lives are on the line for protecting not only Americans, but also the children Democrats claim we mistreat while they ignore the facts.
Given a choice between subjecting a child to a detention center, a sex offender, or people who decide that a vehicle full of drugs is a good place for kids to be, I'm choosing the detention center every time.
Footnotes
1. "Immigration Detention. Opportunities Exist to Improve Cost Estimates." United States Government Accountability Office. April 2018. https://www.gao.gov/assets/700/691330.pdf, retrieved April 24, 2018.
2. "Immigration Courts. Actions Needed to Reduce Case Backlog and Address Long-Standing Management and Operational Challenges." U.S. Government Accountability Office. June 2017. https://www.gao.gov/assets/690/685022.pdf, retrieved April 24, 2018. p. 2.
3. Ibid., p. 12.
4. "Immigration Detention. Opportunities Exist to Improve Cost Estimates." Op. cit. p. 13.
5. Ibid., p. 13
6. "Fiscal Year 2017 ICE Enforcement and Removal Operations Report." U.S. Immigration and Customs Enforcement. p. 2. https://www.ice.gov/removal-statistics/2017, retrieved April 25, 2018.
7. Ibid., p. 2.
8. Ibid., p. 5.
9. "Reps. Doggett, Castro Seek Accountability for Detention Center Sexual Assault & Abuse." Lloyd Doggett. February 26, 2018. https://doggett.house.gov/media-center/press-releases/reps-doggett-castro-seek-accountability-detention-center-sexual-assault, retrieved April 24, 2018.
10. "Seventy Members of Congress Demand Answers on Reports of Increased Detention of Pregnant Women." Pramila Jayapal. November 1, 2017. https://jayapal.house.gov/media/press-releases/seventy-members-congress-demand-answers-reports-increased-detention-pregnant, retrieved April 24, 2018.
11. "Representatives Smith and Jayapal Introduce Legislation to Reform Deeply Flawed Immigration Detention System." Adam Smith. October 3, 2017. https://adamsmith.house.gov/media-center/press-releases/representatives-smith-and-jayapal-introduce-legislation-to-reform-deeply, retrieved April 25, 2018.
12. "Quigley: Inhumane Treatment of Detained Immigrants Cannot Be Rewarded with Repeated ICE Budget Increases." Mike Quigley. November 7, 2017. https://quigley.house.gov/media-center/speeches/quigley-inhumane-treatment-detained-immigrants-cannot-be-rewarded-repeated-ice, retrieved April 25, 2018.
13. "Outrage Isn't Enough." Earl Blumenauer. https://blumenauer.house.gov/outrage-isnt-enough, retrieved April 25, 2018.
14. "Fiscal Year 2017 ICE Enforcement and Removal Operations Report." Op. cit. p. 4.
15. Shlafer, Rebecca J., Erica Gerrity, and Grant Duwe. "Pregnancy and Parenting Support for Incarcerated Women: Lessons Learned." Progress in community health partnerships?: research, education, and action 9.3 (2015): 371–378. PMC. Web. 26 Apr. 2018.
16. "Illegal Alien Sentenced in Columbia for Illegal Reentry." U.S. Department of Justice. April 10, 2018. https://www.justice.gov/usao-sc/pr/illegal-alien-sentenced-columbia-illegal-reentry-0, retrieved April 28, 2018.
17. "Illegal Alien Located in Richland County Pleads Guilty to Illegal Re-Entry." U.S. Department of Justice. April 2, 2018. https://www.justice.gov/usao-sc/pr/illegal-alien-located-richland-county-pleads-guilty-illegal-re-entry-0, retrieved April 28, 2018.
18. "Final Emergency Interim Report. CBP Families and Children Care Panel." Homeland Security. April 16, 2019. p. 1. Retrieved from https://www.dhs.gov/sites/default/files/publications/19_0416_hsac-emergency-interim-report.pdf on April 24, 2019.
19. Ibid.
20. Ibid., p. 2.
21. Ibid.
22. "Border Patrol Agents Fired on: Suspects in Custody." U.S. Customs and Border Protection. December 16, 2019. https://www.cbp.gov/newsroom/local-media-release/border-patrol-agents-fired-suspects-custody, retrieved December 17, 2019.
23. "Two Minor Children in Car Used to Smuggle Meth." U.S. Customs and Border Protection. December 16, 2019. https://www.cbp.gov/newsroom/local-media-release/two-minor-children-car-used-smuggle-meth, retrieved December 17, 2019.
24. "Tucson Sector Checkpoints Thwart Multiple Smuggling Attempts Over the Weekend." U.S. Customs and Border Protection. December 10, 2019. https://www.cbp.gov/newsroom/local-media-release/tucson-sector-checkpoints-thwart-multiple-smuggling-attempts-over, retrieved December 17, 2019.
Photo: Pulaski County Detention Center, Ullin, Illinois. U.S. Immigration and Customs Enforcement. Retrieved from https://www.ice.gov/detention-facility/pulaski-county-detention-center on April 25, 2018.