The rollout of the White House U.S. National Strategy to Counter Antisemitism begins with President Biden's oft-repeated statement that he ran for president because of the August 2017 Unite the Right rally in Charlottesville, Virginia:
President Biden decided to run for President after what we all saw in Charlottesville in 2017, when Neo-Nazis marched from the shadows spewing the same antisemitic bile that was heard in Europe in the 1930s. That is why he has prioritized action to counter antisemitism and hate of all kinds.1
Democrats repeatedly cite the rally as proof of endemic far-right hate. Charlottesville played a central role in their campaign to link Donald Trump to white supremacy. Congressman Brad Schneider (D-IL) was one of many who took up the partisan call to back the president into a corner of the Democrat Party's making:
After Charlottesville, Americans deserved unequivocal moral clarity from our President and a forceful denunciation of the hate, white nationalism, and anti-semitism behind the violence.2
We can expect denunciation from the White House, but don't expect moral clarity. In Washington, politics draws the boundaries of hate. There is nothing moral about it. America's radical, political left has unending tolerance for hate and even promotes political violence when it perceives a benefit.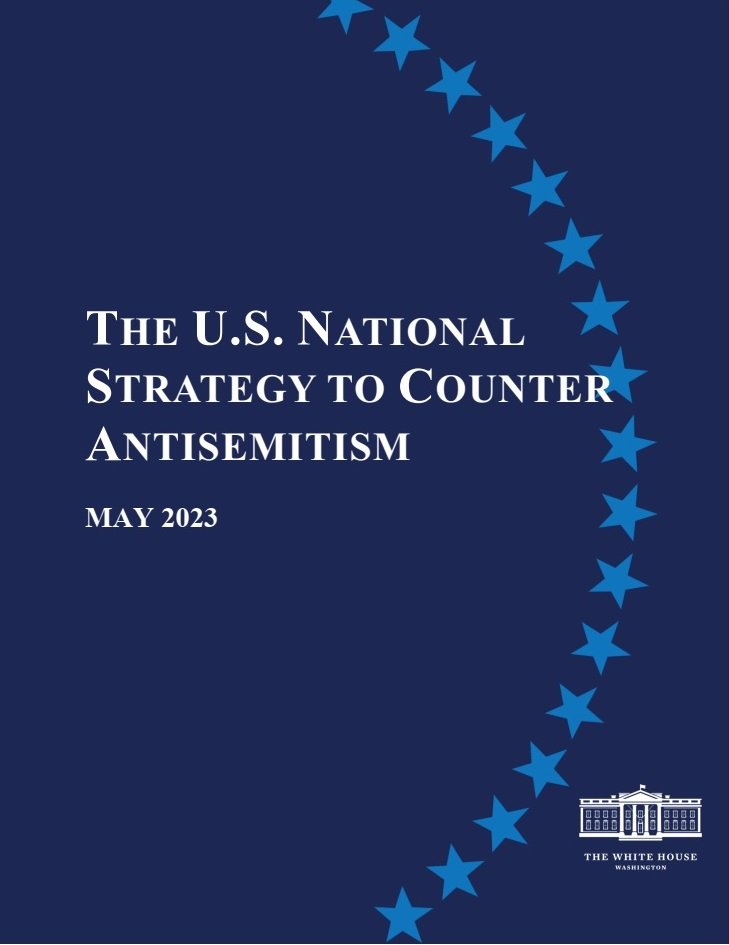 Democrats draw the boundaries for permissible hate.
The historic, catastrophically destructive George Floyd riots were promoted as peaceful, justifiable protests. Activists even referred to looting as reparations. Democrats sat on their hands while businesses and entire sections of cities were destroyed. The mayhem paved the way for the illegal 2022 Roe v. Wade demonstrations at Supreme Court justices' homes that were also justified and culminated in an assassination attempt on Justice Brett Kavanaugh.
Genocidal gun violence in Democratic cities is disregarded because it can't be used to propagandize gun control for "weapons of war" and risks pointing fingers at liberal law enforcement policies that can't and won't deal with horrendous urban violence. Addressing gun violence has nothing to do with saving lives. It's about preserving power and battling Republicans.
Now, with the president's 2024 campaign underway antisemitism is another valuable political weapon that aligns perfectly with Biden's white supremacy narrative. Like urban race riots, gun violence, threats against conservative Supreme Court justices, and the humanitarian crisis at the border their president created and the GOP is blamed for, we have every reason to expect that hypocritical Democrats will be held blameless for their inflammatory, anti-Jewish and anti-Israel hate. This is why the White House strategy for antisemitism has no credibility.
Americans know antisemitism when we see it, but the White House controls the dialogue.
The jargon-laden ("identify evidence-based cross-community solidarity-building efforts"),3 60-page White House call to action against antisemitism arrogantly assumes Americans don't recognize hate against Jewish people:
Americans must recognize and understand it. Far too many do not. Without awareness of antisemitism and education about the threat it poses, Americans across society cannot identify and address antisemitism.4
This is from a president who jokes about drinking and the Irish and tells black Americans if they don't vote for him, they are not black. The problem is not that Americans don't recognize antisemitism. Experience warns that the White House will skew the narrative and use antisemitism as a weapon against political opponents, so we are suspicious of what we are told and the administration's motives. When you use hate for political gain, you have no credibility. Solving the problem cannot be accomplished if we draw the line at Democrats.
Leveraging antisemitism as a campaign tool and political weapon is antisemitic.
America's divisive partisan politics makes it easy to pick, choose, manipulate, and weaponize issues for maximum political effect. Rooting out hate and creating the illusion of intolerance where necessary will be essential to Democrats' 2024 strategy.
While the Biden administration calls for a "whole-of-society" approach to dealing with antisemitism, whole of society will not include fellow party members, left-wing activists, or public institutions. Countering antisemitism is a non-starter when it comes from Democrat members of Congress.
Using hate against Jews as an opportunistic Democrat Party campaign tool is fundamentally antisemitic, especially when it's tolerated within the party. In July 2019 while Democrats manufactured reasons to attack President Trump for white supremacy, radical left Rep. Ilhan Omar (D-MN) introduced H.Res. 496 Affirming that all Americans have the right to participate in boycotts in pursuit of civil and human rights at home and abroad, as protected by the First Amendment to the Constitution. This was a thinly disguised pro-BDS attack on our ally Israel. 18 Democrats signed on to cosponsor. No Republicans backed her resolution.
During the first year of the Biden presidency House members Mike Waltz (R-FL), Jim Banks (R-IN), and Claudia Tenney (R-NY) introduced a resolution calling for the censure of Omar, Rashida Tlaib (D-MI), Alexandria Ocasio-Cortez (D-NY), and Ayanna Pressley (D-MA) for antisemitic attacks detailed in a fact sheet published on Waltz's congressional website.5 Unlike the pro-BDS resolution which received support from Democrat lawmakers, H.Res. 474 garnered 24 GOP cosponsors and no Democrats signed on.
According to the New York Post, Rep. Cori Bush (D-MO) paid over $100,000 to a security provider known for antisemitic social media posts.6 The Washington Free Beacon reported in July 2022 that Bush's backers include an activist who organized a fundraiser for the congresswoman and advocated setting fire to Israel and watching "every Israeli in it" burn.7
There is no need to point out what would happen if a Republican had a similar history. The demands for censure and removal would never end. As a Democrat, Bush need not worry.
In September 2022 Rep. Tlaib argued that supporting Israel is incompatible with progressivism. This certainly appears to be the case, and her argument demonstrates the undercurrent of antisemitism running through the Democrat Party. While there have been sporadic protests from Democrat lawmakers against antisemitism in their ranks, it keeps coming back and by all appearances is regarded as a legitimate, albeit tasteless and offensive radical left political stance.
Last month, a speaker at the City University of New York's law school commencement spewed vicious antisemitism that led to legislation proposed May 31, 2023 by Republican Congressman Mike Lawler (R-NY) to stop funding colleges that promote antisemitic hate.8
Like other GOP efforts to address antisemitism, the legislation attracted no Democrat Party support despite generous funding of CUNY by the party's American Rescue Plan. The White House strategy calls on schools to deal with antisemitism with their DEIA programs,9 though left-wing activist agendas are a fertile source of hate against Jews and Israel.
White House antisemitism accusations mirror Biden's attacks on Republicans.
The Biden administration's antisemitism plan accuses haters of the same strategy the White House employs against conservative opponents:
By seeking to turn the masses against the few, by scapegoating and dehumanizing others—and most of all—by stoking violence, the perpetrators of hate aim to upend our most cherished values and undermine our efforts to build a culture of respect, peace, and cooperation.10
This was the goal of accusing Republicans of "semi-fascism" and using prime-time television for political attacks on those the Biden administration marginalizes as dangerous MAGA conservative extremists. This is why we cannot trust the White House National Strategy to address antisemitism as anything but a divisive campaign issue like racism or transphobia. The administration's history of manipulating hate to advantage the Democrat Party destroys all credibility.
Page after page of jargon, buzzwords, and a litany of "100 meaningful actions" and "100 calls to action" mean absolutely nothing if countering antisemitism is just another campaign strategy and White House anti-Republican political weapon. If the president and his party are serious about addressing a problem they say is reaching crisis proportions, they need to look within and not just at those who pose a threat to their power. Otherwise, their strategy for battling antisemitism has little more credibility than the Steele Dossier and Trump-Russia collusion, peaceful race riots, "Inflation Reduction" climate bill, secure border, non-existent Hunter Biden laptop, and all the other partisan lies that defraud Americans for political gain.
Sources
1"FACT SHEET: Biden-Harris Administration Releases First-Ever U.S. National Strategy to Counter Antisemitism." whitehouse.gov. May 25, 2023. https://www.whitehouse.gov/briefing-room/statements-releases/2023/05/25/fact-sheet-biden-harris-administration-releases-first-ever-u-s-national-strategy-to-counter-antisemitism/, retrieved June 5, 2023.
2"Statement on President Trump's Remarks on Charlottesville." schneider.house.gov. August 15, 2017. https://schneider.house.gov/media/press-releases/statement-president-trumps-remarks-charlottesville, retrieved June 4, 2023.
3"The U.S. National Strategy to Counter Antisemitism" whitehouse.gov. May 2023. p. 50. https://www.whitehouse.gov/wp-content/uploads/2023/05/U.S.-National-Strategy-to-Counter-Antisemitism.pdf, retrieved June 4, 2023.
4Ibid., p. 13.
5"Tenney, Waltz, Banks Introduce Resolution to Censure and condemn 'The Squad.' tenney.house.gov. June 14, 2021. https://tenney.house.gov/media/press-releases/tenney-waltz-banks-introduce-resolution-censure-and-condemn-squad, retrieved June 5, 2023.
6Christenson, Josh. "Cori Bush 'security' includes ex-Black Panther who blamed Jews for COVID." nypost.com. March 7, 2023. https://nypost.com/2023/03/07/cori-bushs-security-guard-says-jews-started-covid/, retrieved June 5, 2023.
7Kredo, Adam. "Meet the Cori Bush Activist Who Wants To Burn Jews Alive" Washington Free Beacon. June 12, 2022. https://freebeacon.com/democrats/meet-the-cori-bush-activist-who-wants-to-burn-jews-alive/, retrieved June 5, 2023.
8"Following Hateful Speech at CUNY Law School Graduation, Lawler Introduces Legislation to Combat Anti-Semitism on College Campuses." lawler.house.gov. June 1, 2023. https://lawler.house.gov/news/documentsingle.aspx?DocumentID=385, retrieved June 5, 2023.
9"The U.S. National Strategy to Counter Antisemitism" whitehouse.gov. Op. cit., p. 43.
10Ibid., p. 2.