Every morning I face going to prison. While driving to work, two signs on each side of the highway threaten to take away my freedom for fourteen years for striking a highway worker. This doesn't make me a slave exactly and hitting someone is certainly a serious matter, but it still feels like a threat to my liberty without the slightest hint of due process.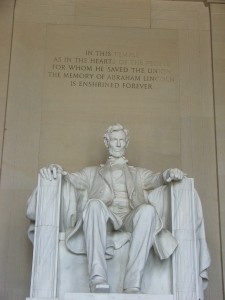 How does freedom rate in the state that takes credit for Abe Lincoln? It falls to the stupidity that keeps people in Illinois shackled to Springfield's savage lust for money. Truth be told, the $10,000 fine that accompanies the threatened 14 years in jail is pocket change compared to what it takes to incarcerate someone, but that's how legislators in the Land of Lincoln think. It's also why our state never has any money and we keep finding ourselves the target of schemes to take away more of our incomes by any means necessary.
What it means to be a slave in Illinois
Being fined and taxed and having no say in the matter is what being a slave in Illinois is all about. Unless we uproot our lives, quit our jobs and leave, it gives us no choice but to pay up and shut up. No matter how often we plead that we have no more to give, lawmakers insist on raising the financial risk of living and working here. The only ones who continue to benefit are those racking up big pensions points while threatening to pass new fines, taxes, levies, and penalties.
It might be different if all the spending made things better. It doesn't.
A slave to Lincoln's state: be taxed more so others can work less
August 18 was Democrat Day at the Illinois State Fair, a fitting nod to the party that destroyed Lincoln's state. The Illinois Democratic Party refers to itself as a "people powered party,"1 which is true to a point. It is powered by people who rule like tyrants and make a slave of anyone who has money. Why? To keep the state alive for those who don't contribute anything, commit crimes, profit from government, or earn plenty but refuse to show up to the jobs taxpayers pay them to do.
Here are two examples from just the past week of what makes living in Illinois feel like slavery:
Example 1: How can a broke state be so corrupt?
The former head of the penniless Chicago Public School system was finally indicted yesterday over $23 million in no-bid contracts.2 Corruption is an institution in honest Abe's state. We have come to expect it. It does raise an anger-inducing question: how is so much corruption from so much money being passed around illegally even possible in a state that claims to not be able to pay its bills?
Example 2: Shouldn't we work for our pay?
Teachers in McHenry, Illinois followed in the footsteps of their colleagues in Prospect Heights by going on strike just weeks after the start of the school year. The amusing thing about Illinois teachers' strikes is that lawmakers downstate passed the pension laws they can't live up to. They groveled to the unions that won outrageous salaries that are never enough and then our laws gave teachers the option of not working until they get more of what the state says it doesn't have: money.
Explain that to taxpayers in Chicago who are facing the next property tax hike to fund city worker pensions.
For those who don't go to work because they don't have jobs, there is always unemployment insurance. Illinois was generous with that, too, paying out an estimated $354,133,364 improperly and boasting a bad payment rate of 12.475% for 2014.3
When you are already broke, perhaps losing money doesn't matter.
Whether workers don't work or don't have jobs, those of us who do earn a living responsibly pay, pay, and pay. It doesn't mean we are slaves per se, but it sure seems that way.
Speaking of slavery, if more people paid taxes the burden wouldn't fall so heavily on those of us who do. Here is a third example of wrongheaded thinking that probably has Lincoln turning in his grave:
Example 3: Why be nice to people who don't pay income tax?
Rather than beating the drum of why sanctuary cities deserve to fall into sinkholes so deep that they can never crawl out, one simple observation suffices: what kind of idiocy calls for luring people without Social Security numbers who don't pay state income or property taxes to the largest metropolis in the state? It's hard to hold the club of revenue collection over someone without an identity, but no matter. Chicago has decided that open-armed stupidity comes first. Sure, the city's undocumented can now get driver's licenses so they can go to work, but those are only good for legally violating traffic laws, getting into accidents, and not paying taxes on the wages the law says you can't legally earn. They aren't a ticket to paying what you owe.
How can this happen? Because taxpaying slaves who find it inconvenient to leave are paying the bills so others don't have to.
You are a slave. These are your overseers.
There is, of course, another side to how the Democratic Party views ethnicity in Illinois that has nothing to do with favoring Hispanic immigrants. City and downstate legislators know they are secure unless they are caught with their hands in the pot and they flaunt it like overseers. The worst offense of all comes from making a slave of anyone who can't afford to leave by forcing them to pay whatever levies Democrats consider necessary to improve the lives of the same low income residents they fleece. Even if you don't make enough to pay state income or property taxes, there are internet streaming and use taxes, draconian traffic fines, ski-high sales tax rates, and threats to further raise the levy on soft drinks that are by no means the progressive fixes the state's liberal overseers claim to believe in.
Lincoln emancipated the slaves, but no one is being freed in this state. If you live here you are a slave to stupidity and no one is going to set you free.