When you are president of the United States and you can't do your job because of your country's Constitution, what can you do? Declare freedom from being American. Ignore our system of government. Disregard America's laws. Threaten to do whatever it takes to get your way. That's what freedom from being American means for a president who doesn't like how things work in the U.S. With Barack Obama eager to liberate himself from any constitutional restraints, what does his freedom mean for the rest of us?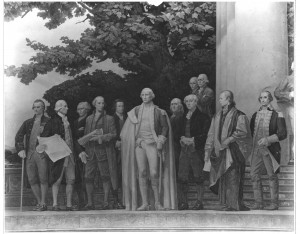 No more freedom from tyranny.
The president's chants of "obstruction" when Congress blocks his path will have to be met with our chant of "tyrant" when he tries to do things Congress hasn't approved and the people don't want.
Buses full of illegals turned away by protesters near San Diego this week question Mr. Obama's position that Americans are full bore behind immigration reform. We better get behind this kind of protest because he is threatening to pass another immigration order whether we like it or not. That's what being a tyrant is all about. When you are confident that you know better than the people and their representatives in Congress it makes it easier to do things your way, whether that means overriding labor and immigration laws, making NLRB appointments when the Senate is off the clock, or planning an end run around the Supreme Court when it disagrees that government-imposed health care should trample Americans' rights.
Forget freedom from injustice.
Americans are programmed to think of injustice as something that comes from racism or discrimination. Injustice can also come from officials who are responsible for enforcing laws in a just way and choose not to do so.
White House claims that President Obama can use "existing legal authorities"¹ is a pretty vague excuse for his rabidly overzealous overreach. The Supreme Court slapped him for using those privileges for recess appointments. Does overstepping presidential boundaries for a few NLRB positions make Obama guilty of injustice? No, but repeatedly crossing the line or threatening to take executive action does. It undermines public faith and turns our system of government into a fraud. Given the length of time it takes to get a case before our highest court, how much can he get away with and how much damage can he do before one of the other arms of government stops him? Our attorney general won't help. He supports his boss. Speaker Boehner, how's that lawsuit coming?
Freedom from free enterprise.
Free enterprise may not be the first freedom that comes to mind when you think about our liberties, but what kind of economic system would we have without it? A system closer to the Obama ideal. We would have an economy that dictates what employers pay workers and decides which businesses should thrive and which need to be phased out. To help that process along, regulations might need to be passed to crush industries unpopular with a president's political supporters. For example, the EPA could be used to placate those waiting for the oceans to boil and the skies to rain fire. We might even try to pass income insurance for Americans who lose their jobs (see: America's Workers Should be Angry, Not Thankful), or force overtime for managerial workers. We might punish financial institutions and accuse the wealthy of ruining the lower classes. If the middle doesn't prosper, we might have to take the fruits of the hard work of others to raise their standard of living without so much as a nod to the evils of income redistribution. That's how freedom from being American can be liberating. It helps this president justify creating his own take on a socialist state to replace a free market system he doesn't agree with.
Freedom from believing the wrong things.
It's hard to control the lives of the American people when they don't believe the right things. It places limits on what government can get away with. Barack Obama wants people to understand that they need the right kind of health care. They need to learn how to feed their kids. They need to understand that Social Security, not Wall Street, is a safe place for their money. To keep us from growing up stupid, the government needs to step in early and make sure that our kids are learning the right things while eating their government-prescribed diet. Most important, the president needs to separate Americans and their representatives in government from their rigid, archaic beliefs about what it means to be American.
Americans who believe the wrong things are trouble for our president. No matter how many times we are told that everything we thought about being American is wrong, some of us don't listen and will never understand. Propaganda doesn't work on us. America's laws support what we believe. The Constitution is a big problem because not only does it restrain Mr. Obama from doing what he thinks is his job, it stands as a symbol that is hard to get out of people's heads.
The Fourth of July speaks to the freedom of being American that gets in the way of government controlling the lives of the people. What's the fix? What's a president to do? Maybe Obama needs some new Americans. He's working on that as you read this. Democrats call them "aspiring." Those of us with a healthy respect for the law call them "illegals."
Have a wonderful Fourth of July, fellow Americans.