Do you think that the American political system isn't working because Congress is broken, our parties reduced to hopelessly butting heads with no progress in sight? You are wrong. A do-nothing legislature may not be quite what our government's creators intended, but the American political system works. It saves us from idiot politicians who would ruin us if we gave them half a chance.
American political system and its Constitution endure.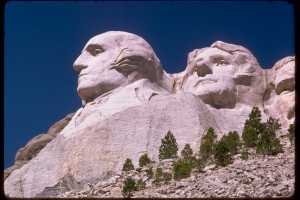 The president is running roughshod over our Constitution's separation of powers, but other than infuriating us every time he steps behind a microphone the damage has been minimal since he got the Affordable Care and Recovery Acts under his belt. When balance was restored in Congress, the American political system stopped the White House in its tracks and saved us from the worst excesses Democrats were plotting. Obamacare wasn't the fault of our government, anyway. It was the fault of voters dumb enough to put idiot politicians in office who made sure that national health care finally passed.
Consider this: the president started the year by threatening to act on his own during the State of the Union address (see Bullying: How Obama's Government Gets Things Done). He has done little of consequence to live up to his words. There have been no breakthrough immigration orders. The federal contractor minimum wage order was good for a press release and little else. The same goes for Obama's promised LGBT protections order, which allow him to make idiotic comments like these, made at a "DNC LGBT Gala":
So now you flash back 10 years ago. Maybe no single issue divided our country more than same-sex marriage. In fact, the Republican Party built their entire strategy for 2004 around this issue. You remember? They calculated that if they put constitutional amendments banning same-sex marriage on state ballots, they'd turn out more voters, they'd win.1
The president was too busy spouting partisan nonsense to understand the point he was making. Conservatives may not like it, but the American political system even works for liberal airheads. There is no federal constitutional amendment against same sex marriage, but there is no constitutional amendment permitting it, either. Ironically for conservatives, this cause has become a dubious victory for states' rights. That's because neither party prevailed on an issue that deserves to be ignored. Our American political system doesn't like extremes and only lets politicians exploit them when we, the people, create extreme circumstances with our votes.
Lots of talk, but no progress for idiot politicians.
We've heard threats, bombast, remonstrations, lies, and every form of harangue imaginable from idiot politicians who have deluded themselves into thinking that they care about something larger than themselves. Nevertheless, despite the Democratic Party's penchant for theater most of its liberal agenda has failed. Most of the Republican Party's more conservative efforts have failed, too.
Compromise often renders agreement on issues like overspending worthless, but our national defense is still being funded. America's credit is still reasonably intact after a showy downgrade. Our Social Security and Medicare entitlements are still up and running, at least for the time being. Despite the best efforts of the left to ruin the economy by spending us into a black pit of debt, opposing forces stood in the way. The American political system worked. It protected us from politicians tossing out ideas like this Illinois Congresswoman's punitive measures for an "inequality crisis"2 invented to create villains and punish them loudly and publicly:
In this country, the top 1 percent of earners holds 40 percent of our nation's wealth – that's more than the entire bottom 90%, who own just 25% of the country's wealth. We need increased revenue to eliminate the sequester, fund investments in education, public safety, and infrastructure and provide support for Americans striving to reach the middle class.3
This isn't mother Russia in the 1930s. This is America. The American political system saved us by saying no to smash and grab revenue collection. Their efforts to scare businesses away from hiring with bright ideas like these from the House Democratic Caucus have been blocked:
Economic experts agree that raising the minimum wage, guaranteeing equal pay for equal work, renewing emergency unemployment insurance, and fixing our broken immigration system would all go a long way toward strengthening America's middle class families and boosting long term economic growth.4
Even with all the hand wringing over gridlock, our Congress continues to prove that it works best when it doesn't work at all.
Boehner's lawsuit is admirable and pointless.
We've had our share of conservative efforts to derail this presidency and its health care bill, the one accomplishment Barack Obama can hang his hat on. However justified, some of the GOP's efforts were misguided, some became tiring, and for the most part they went nowhere, just like the president's agenda.
John Boehner's current effort to slap a lawsuit on the White House is as admirable as it is pointless, though we can't argue with his reasons:
But at various points in our history when the Executive Branch has attempted to claim for itself the ability to make law, the Legislative Branch has responded, and it is only through such responses that the balance of power envisioned by the Framers has been maintained.5
How about impeachment? Take it off the table. The Republican Party would never recover from a failed attempt to throw the first African American president in history out of office. Better to let our political system deal with the problem by stopping the White House in its tracks.
When the American political system fails, it's our fault.
When idiot politicians are hamstrung they can't do any damage. When the American political system falls on its face and allows lawmakers to do real harm it's our fault, not theirs. We knew who and what they were when we voted for them and if we didn't, we should have. Thankfully, except in disaster zones like Illinois where Democrats rule in perpetuity and have a wrecked state to show for it, our Federal Government tends to do a better balancing act than we give it credit for. Don't thank Washington, though. Thank our founders. The American political system endures. It is in spite of those running the government, not because of them, that we are saved from the foolhardiness of idiots.